Pinduoduo May Have A Counterfeit Problem: Rashomon Effect. PHOTO: Credit to iYiou
On April 2, 2019, ZHAO Daxi (赵大喜), a Chinese online star also known as wanghong (网红, a Chinese term referring to those internet celebrities), posted on Weibo claiming that a shop on Pinduoduo illegally used her brand name and product images to sell unauthorized products at much-discounted prices.
A comparison between the two shops. Origin Zhao's shop is on the left and the one on Pinduoduo shop is on the right.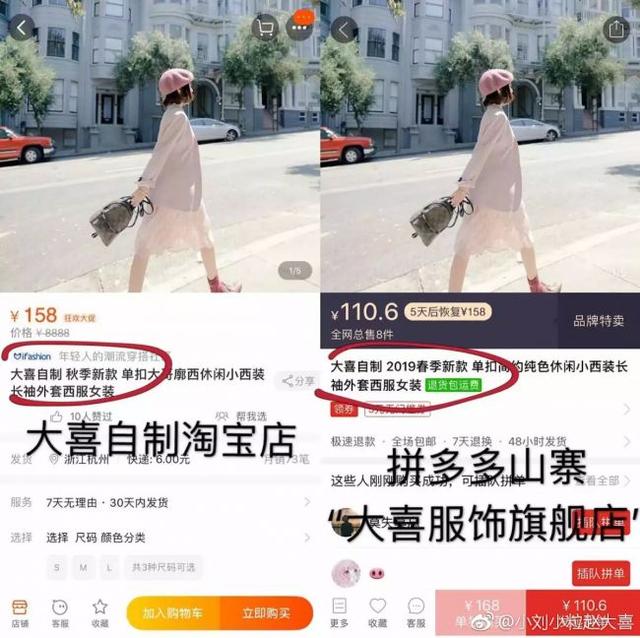 However, staff from Pinduoduo responded and claimed that products are genuine and setting up a store on Pinduoduo was ZHAO's idea. Pinduoduo's side of explanation implies that this drama was planned by ZHAO in order to avoid the Taobao's "Either Taobao or none" policy which forces businesses to stay only with Taobao or go delisted from Taobao.
Who is ZHAO Daxi?
ZHAO is a top Wanghong being active on various social media such as Weibo, Taobao, Xiaohongshu (also known as Little Red Book or RED). On Weibo alone, she has 4.19 million followers and more than 4 thousand posts.
According to Wang Hong Consumption Influence Index published by Taobao, ZHAO ranks the sixth for the overall rating and the third for transactions.
ZHAO started her career as a Taobao model and later opened her own Taobao shop – Da Xi Zi Zhi (大喜自制, meaning made and designed by Daxi). Within four years, her shop reached double golden, a high ranking in the Taobao seller rating system.
Monetization of wanghong economy
According to research published by iResearch in 2018, e-commerce is the most common for wanghong to monetize. In short, turning followers into consumers.
Among all the e-commerce categories, clothes are the common one and take more than 70 percent of the total wanghong e-commerce GMV. For example, ZHANG Dayi (张大奕), the most influential wanghong on Weibo, sold more than CNY 100 million clothes during the first half-hour on Nov 11, the largest online shopping festival in China, reported by China Daily,
Most wanghong treat Taobao shops as the main way to monetize.
Pinduoduo
Pinduoduo, the third largest e-commerce platform after Taobao/Tmall and JD.com. is best known for selling cheap and fake products. The main problems faced by Pinduoduo are combating counterfeit and growth.
Pinduoduo has a long way to combat counterfeit goods. Counterfeit goods will not only hurt consumers but also will deter potential investors especially those care about reputations and social responsibilities. The manager of a famous institutional investor told EqualOcean that they were thinking of investing Pinduoduo on its Series A financing round because they agreed on its business model and the growth potential; however, they were also concerning the counterfeit products may damage its investors' reputations. So, they eventually did not invest in Pinduoduo' Series A round or any other later rounds.
Pinduoduo came up with a growth goal – surpass JD.com in three years and challenge Alibaba's dominance in ten years. Adding more eyeball-catching sellers to its platform is crucial for its growth. And wanghong can be a good choice. However, many wanghong are reluctant to open shops on Pinduoduo. This is not only because of Taobao's policy but also the brand image of Pinduoduo conflicting with their upward and fashionable brand images.
Enterprise Information
Pinduoduo is a Chinese e-commerce platform that allows users to participate in group buying deals.
CATEGORIES: E-commerce
Number of Employees
2000+
Number of Funding Rounds
6
Total Funding Amount
3.30B
Enterprise Information
Pinduoduo
Pinduoduo is a Chinese e-commerce platform that allows users to participate in group buying deals.
CATEGORIES: E-commerce
Number of Employees
2000+
Number of Funding Rounds
6
Total Funding Amount
3.30B