On Apr 18, 2019, Rokid signed a contract with China Unicom Wo Music in Guangzhou to achieve strategic cooperation. At the same time, Wo Music published A2, which is a smart speaker that uses the Rokid's full-link voice solutions. So far, Rokid becomes the first strategic partner of Wo Music, in terms of its voice strategy. In the future, they will cooperate with each other to build a voice interaction platform.
LI Han (李韩), the president of China Unicom Wo Music, and Misa, the founder, and CEO of Rokid, attended the conference. According to the contract, Wo Music and Rokid will jointly build the smart voice innovation lab and start deep cooperation in the voice platform building, technology research and application, and production R&D. Both Rokid and Wo Music will promote the building of Wo Music's AI ability platform to build a new ecology of the smart voice industrial chain.
Wo Music also published the A2, which is the new model of the smart speaker. A2 uses Rokid's full-link voice solutions, including algorithm, KAMINO 18, which is the AI chip independently developed by Rokid, and YodaOS, the first open-sourced operating system in China. KAMINO 18 combines many latest Rokid's technologies, including phased array technology, CTC model, offline voice code, etc. KAMINO 18 could fully support the smart speaker, smart TV, autos and story machines, while has a high performance and lower energy consumption.
Yoda OS, on the other hand, integrated the contents, services, and IoT applications of Rokid. With the independently developed SoC chip, YodaOS could save a lot of time while developing the hardware and software and help the Rokid's partners to quickly develop its products. With the comprehensive smart voice solutions and several years experiences in the massive production of products, Rokid will help Wo Music A2 to gain more market share in the smart speaker market.
As the subsidiary of China Unicom, Wo Music provides service to 300 million China Unicom users and 70 million Internet users. According to LI Han, the director of Wo Music, the digital music industry has entered to Time 3.0. Technology such as AI, IoT, and blockchain, will help with the promotion of the users' experiences. In this way, Wo Music will make use of its strong channel resources to cooperate with Rokid, as well as other industrial partners from the upstream and downstream of the industry chain, to build the AI platform and build a new smart ecology based on music.
Misa said that Rokid published its own open platform since 2017 which has the full-link ability from cloud to devices. Rokid Alien and Rokid Pebble are the earliest smart speakers that make use of that platform. As developers, they could use abundant technology and professional developing tools on the Rokid open platform to accelerate the development of their products.
Enterprise Information
智能机器人研发科技公司
CATEGORIES: AI, Home, Finance, Smart Home, Smart Manufacturing, Deep Learning, Natural Language Processing, Robot, Hardware, Speech Recognition, Entertainment Media, Emerging Technology and Application, Human-computer Interaction, Smart Agriculture, Service Robot, Domestic Robot, Robot Technology
Last Funding Type
Series C
Number of Employees
21-50
Number of Funding Rounds
4
Enterprise Information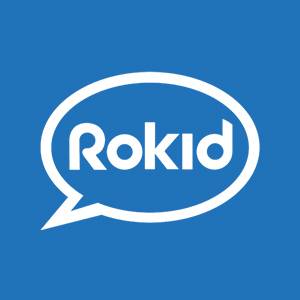 Rokid若琪
智能机器人研发科技公司
CATEGORIES: AI, Home, Finance, Smart Home, Smart Manufacturing, Deep Learning, Natural Language Processing, Robot, Hardware, Speech Recognition, Entertainment Media, Emerging Technology and Application, Human-computer Interaction, Smart Agriculture, Service Robot, Domestic Robot, Robot Technology
Last Funding Type
Series C
Number of Employees
21-50
Number of Funding Rounds
4